The Blizzard of 2015… In New Jersey, it was the event that never was. However, it is still a good time to remind people of their obligations toy remove snow from their car when it snows, imposed by motor vehicle statute 39:4-77.1, which requires that "Each driver of a motor vehicle operated on a street or highway in the state shall have an affirmative duty to make all reasonable efforts to remove accumulated ice or snow from exposed surfaces of the motor vehicle prior to operation, which surfaces shall include, but not be limited to, the hood, trunk, windshield, windows, and roof of the motor vehicle, the cab of the truck, the top of the trailer or semitrailer being drawn by a motor vehicle, and the top of the intermodal freight container being carried by an intermodal chassis."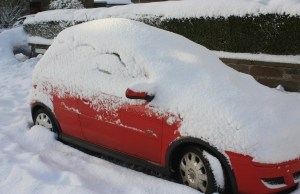 That is an incredibly long and complicated way of saying that no matter what you are driving or towing, you have to remove all the snow and ice from your vehicle before you drive it. "Why couldn't that have just said that?", you ask. I honestly don't know. In any event, the statute imposes a fine between $25 and $75 dollars, provided no snow or ice actually flies off your car while you're driving it. Not a very serious fine. However, if snow or ice flies off your car while you're driving it, and property damage or injury results, the fines jump to $200 to $1,000! If the vehicle is a commercial vehicle, such as a tractor trailer, the fine is $500 to $1,500.
It is not widely known that this is an actual law, though most people agree it is good common sense. In fact, this citation is not issued very frequently, with only 4,755 tickets being issued since 2009 when it became law. The reality is though, it is very important for people to clear their cars of debris such as snow or ice before driving, as failure to do so can have dire consequences. Be mindful of the fact that should you be found responsible for causing an accident because snow or ice has flown off your car, and serious injury or even death occurs, being issued a ticket for violating 39:4-77.1 will be the last of your worries. You'll most definitely be sued, and could possibly be charged criminally with Reckless Endangerment, or any other applicable crime which does not require specific intent. This is not a day you want to have…
Are there any defenses if you fail to clear your car of snow or ice, and get charged with 39:4-77.1? Yes. Commercial vehicles which require special equipment to clear snow and ice from the vehicle, and are on their way to that facility, will be exempt. Also, cars which are already on the road when a storm starts and are traveling, or started traveling when a storm started, parked, and then resumed travel again while the storm is continuing, are also exempt from the obligations imposed by the statute. These are very limited circumstances. Anyone who has ever been behind a car or truck while a blanket of snow has flown off and landed on their car obscuring the view, or had a huge chunk of ice hit their windshield squarely, knows how scary this can be. We should all be courteous to each other on the road, but more importantly we should each do our part by not increasing the likelihood of accidents, damage, and injury.
*For more tips on safe winter driving, click here.
ADDITIONAL RESOURCES:
Clearing Snow From Vehicles Roof a New Jersey Law; Police Say Tickets Not Always a Solution, NJ.Com, December 26, 2013